Tosi's Custom Hair Replacement for Women
THE INDIVIDUALLY PERSONALIZED NON-INVASIVE OPTION FOR FULL OR PARTIAL HAIR LOSS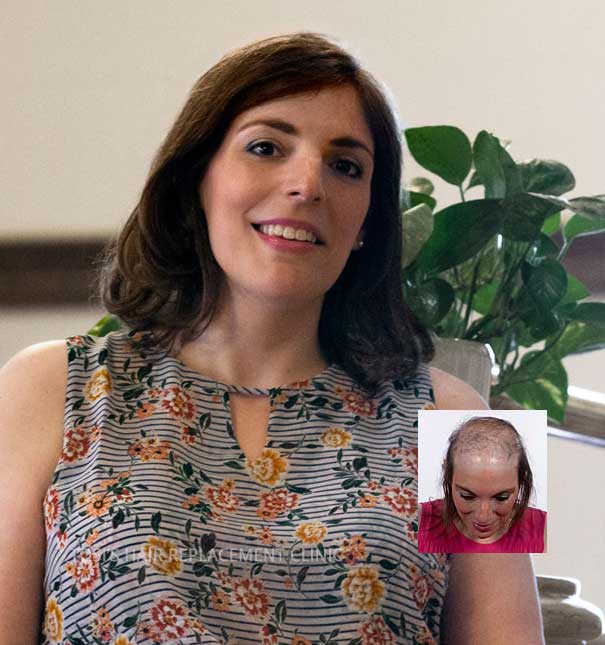 Tosi's Custom Hair Replacement for Women
Proven Hair Loss Solutions for Women
IF YOU ARE A WOMAN SUFFERING FROM THINNING HAIR AND HAIR LOSS and are looking for the best solution to address thinning hair, we invite you to consider Tosi's Custom Hair Replacement for Women. Tosi's custom designed, non-invasive hair replacement systems offer a complete, uniquely personalized solution that allows you to once again enjoy a full head of natural-looking, healthy, beautiful hair once again.
Our individually customized women's hair replacement systems allow you to add just the amount of hair you need, blending seamlessly and matching the style, texture, and color of your existing hair, to give you the healthy, natural, full look you deserve.
Innovative Non-Surgical Solutions for Women
Tosi's individually customized women's hair replacement systems offer a non-surgical option for women experiencing full or partial hair loss and offer a beautiful, totally natural look and feel. Easy to care for, cool and lightweight, it is easy to recreate your favorite style or experiment with that bold new look you have been wanting to try.
With amazing looking hair and restored confidence, you can go anywhere, enjoy all your favorite activities, and explore whole new styles for yourself: long or short, blonde or brunette, straight, curly, up-dos, low-lights, high-lights. It's your hair, your life, your style.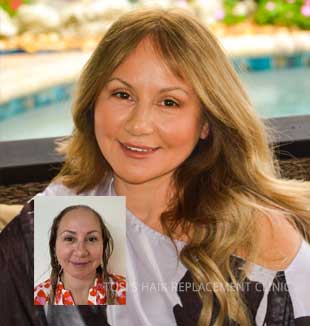 ​Created to your unique needs and utilizing only the highest-quality natural human hair, Tosi's custom created hair replacement system is a perfect match for your active lifestyle, whether in a professional business setting, or jogging or swimming.  It features:
A totally natural look and feel
Comfortable and lightweight
Easy to care for and style, just like your own hair
Say Goodbye to Hair Loss Anxiety
At Tosi's our custom female hair replacement solutions offer the most effective, non-invasive method for treating full or partial hair loss.
If you or someone you love is struggling with hair loss or thinning hair – regardless of cause – you owe it to yourself to learn more about Tosi's totally natural looking and completely undetectable women's hair replacement options.  We invite you to schedule a free, private consultation today. Call (570) 693-3276 now.
At Tosi's Hair Replacement Clinic in Exeter, Pennsylvania, we are here to help you find the hair loss solution that not only restores your hair, but also the self-confidence that comes with beautiful, full, healthy-looking hair.
Pennsylvania's
Hair Restoration Experts
STUDIO HOURS

Tuesday: 9:00am – 8:00pm
Wednesday: 9:00am – 5:00pm
Thursday: 9:00am – 8:00pm
Friday: 9:00am – 5:00pm
Saturday: 8:30am – 5:00pm
Sunday-Monday: Closed.
No matter what kind of hair loss you're experiencing, we can help. Contact us today to schedule your free, private consultation.