Tosi's Custom Hair Replacement for Men
UNDETECTABLE NON-INVASIVE HAIR LOSS OPTIONS FOR FULL OR PARTIAL HAIR LOSS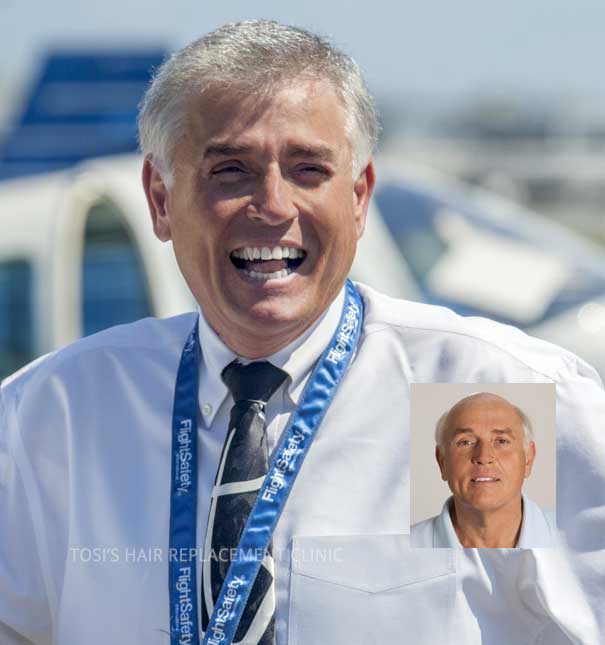 Tosi's Custom Hair Replacement for Men
Life-Changing Hair Loss Solutions for Men
IF YOU ARE EXPERIENCING MALE PATTERN BALDNESS OR THINNING HAIR you are not alone! Tosi's Hair Loss Clinic in Exeter is one of the most trusted non-surgical hair replacement centers in the USA. We understand what hair loss and thinning hair can affect a man's self-esteem and confidence.
That is why we are proud to offer our unique, individually customized non-invasive men's hair replacement solution. Totally natural and completely undetectable, it gives you just the right amount of added hair you want and need with just the right degree of density, and length, blending seamlessly with your own growing hair and perfectly matching the style, texture, and color of your existing hair, to give you the healthy, natural, full look you deserve.
Individually Customized
Non-Surgical Men's Hair Restoration
Active men need a hair loss solution that is compatible with their lifestyle, which is why so many men choose non-surgical hair restoration to restore both the fullness and style they want. At Tosi's, our individually customized men's hair replacement solutions offer the latest in leading-edge hair replacement technology, providing the full coverage, length, styling ability, and security.
Our custom men's hair replacement systems blend seamlessly with your existing hair for a totally natural look and feel that is virtually undetectable, even up close.
Custom crafted with 100% natural human hair, our Men's Custom Hair Replacement Systems offer a truly effective, undetectable, easy-to-maintain, life-changing solution for a full, healthy looking head of hair with perfect coverage, length, and volume.
Whether your career places you in the public eye, or you play high-impact sports, Tosi's custom men's hair restoration systems will give you the confidence in your hair and appearance you deserve.
Why Choose Tosi's Custom Hair Replacement for Men
​The Tosi's Custom Men's Hair Replacement System is a result of over 20 years of research and testing. Made with only the highest quality human hair, this non-surgical men's hair loss solution is fully customized and designed to integrate naturally with your own growing hair and scalp. It can match your own individual skin tone and be cut and styled any way you want. It offers:
A completely natural look and feel
Comfortable, secure and permanent
Perfectly mimics your own natural growing hair and scalp
To learn more about our Custom Hair Replacement systems for Men, we encourage you to schedule a free, private consultation today.
Pennsylvania's
Hair Restoration Experts
STUDIO HOURS

Tuesday: 9:00am – 8:00pm
Wednesday: 9:00am – 5:00pm
Thursday: 9:00am – 8:00pm
Friday: 9:00am – 5:00pm
Saturday: 8:30am – 5:00pm
Sunday-Monday: Closed.
No matter what kind of hair loss you're experiencing, we can help. Contact us today to schedule your free, private consultation.