Hair Loss Treatment Solutions FAQ
Causes and Treatments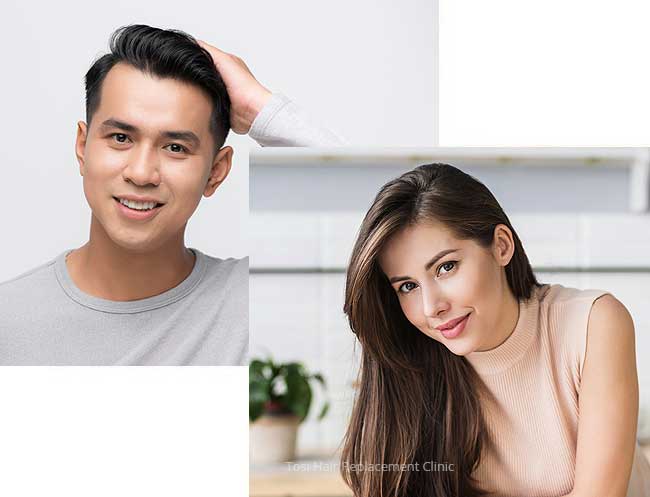 Frequently Asked Questions
About Hair Loss & Hair Replacement
Do you wake up in the morning and look at your pillow only to see more hair has fallen out during the night? Do you notice when you brush your hair you are pulling more hair out of your brush or comb? If you are like most people discovering these things you probably spend more time trying to hide your scalp with different hairstyles and try different volumizing shampoos. Hair loss is something that affects both men and women and depending on the type of thinning hair you have there are different types of solutions to help restore your hair.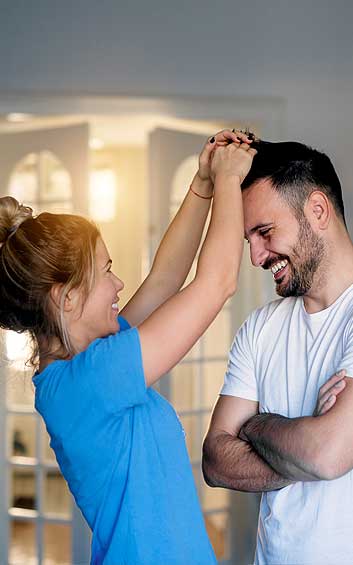 NON-SURGICAL TREATMENTS FOR MEN & WOMEN
Hair Restoration Questions
What can I expect during my initial hair loss consultation?
Your initial hair loss consultation is an opportunity for us to get acquainted. It allows us to evaluate your hair loss and to understand any concerns you have and what goals you have for how you want your hair to look. A typical consultation will last about 45 minutes to an hour. This is also a time that you can ask questions and get answers about your hair loss and understand the various treatments and hair replacement options available to you. We will work to determine which solutions would be the best fit for you, your type of hair loss, your goals and expectations. We also encourage you to bring a spouse, close friend, or family member to help you in your hair loss treatment evaluation process.
Isn't a Hair Replacement System just a Toupee or Hairpiece by Another Name?
In a very broad sense, the two terms basically refer to the same thing. However, they are very far apart from one another in terms of technology and sophistication. In the early years of the twentieth century, the term "toupee" was used when referring to a hair piece. The toupees of that era were very primitive and fake looking, extremely uncomfortable, and quite bulky. As a result, a strong negative stigma has remained with the term.
Today's modern hair replacement systems are nothing like their ancient predecessors. Think of it like comparing your grandmother's old eyeglasses to the latest modern-day contact lenses. Both from a technological and aesthetic standpoint, there is really no comparison.
Will a Non-Surgical Hair Replacement System Look Natural?
Nobody wants to have hair that doesn't look natural. That's why in today's modern hair replacement industry, our best work is never "seen." Nobody can tell that the hair you have is not your own natural growing hair. At Tosi's Hair Replacement Clinic we offer complete styling services. Our stylists can match your hair color, curl, volume, and hair texture perfectly. We guarantee that nobody will ever know that you are wearing a hair replacement system. Not even when you get out of the pool and shake your head vigorously.
What is the Difference Between Fashion Wigs and Medical Wigs?
Medical wigs are custom-made for those that have little to no hair. They are created so it molds to your scalp for both comfort and a natural appearance. Fashion wigs are too scratchy to be worn for someone with hair loss. They are a one-size fits all so there is a difference in how the hair lays on your head.
What Will My Friends or Co-Workers Say When I Suddenly Show Up with a Full Head of Hair?
The reactions do vary but what we hear most from our clients is that, believe it or not, their friends and co-workers generally don't notice. They often comment that they like your new hairstyle or as if you styled your hair differently, or whether you've been working out at the gym. Other times people may notice that there is something different about you but they just "can't put their finger on it."
It is also not unusual for our clients to refer their friends or family members to us after they have revealed to them what they had done.
I am Very Embarrassed about My Hair Loss. I Don't Want Anyone to Know.
You can rest easy knowing that all of our services take place in a caring, confidential, and extremely private setting. We understand the privacy concerns of our clients and we do everything we can to accommodate them. No one will ever know that you came to us for help with your hair loss unless you share it with them personally.
GET STARTED WITH A
FREE CONSULTATION
Whether you are suffering from thinning hair and want to stop your hair loss, or want more hair, we provide the most effective and advanced hair restoration and hair loss treatment solutions for men and women of every age.
Trust. Care. Confidence.
All of our services are provided with your complete privacy in mind. We provide a private, respectful atmosphere which our clients appreciate. Regardless of the cause of your hair loss, Tosi's is here to help.
Get Answers Today
RESTORE YOUR HAIR. RESTORE YOUR LIFE. Schedule a free, private consultation today.