Hair Loss Prevention & Regrowth Products
HAIR LOSS TREATMENT & PREVENTION FOR MEN & WOMEN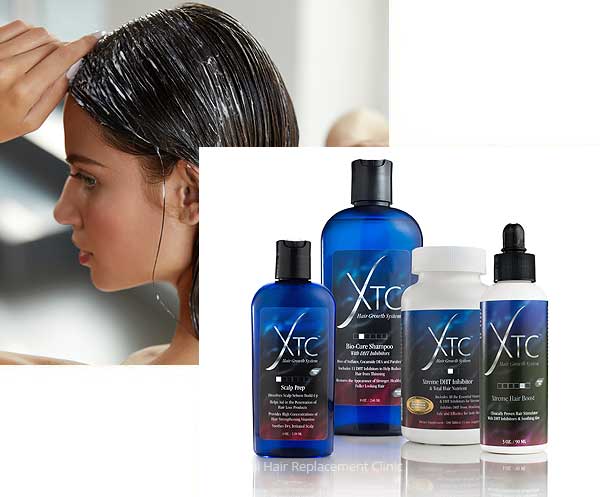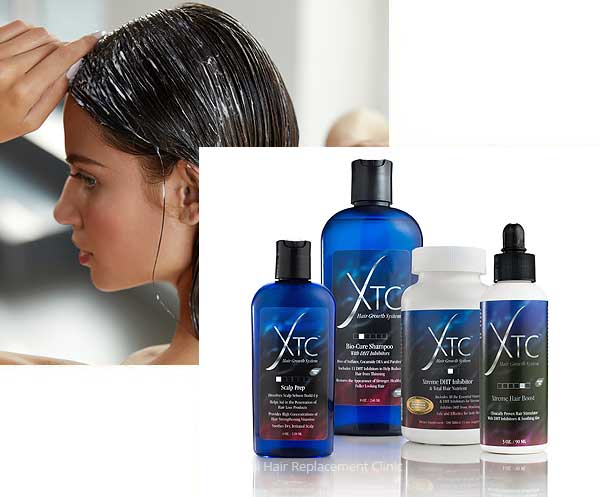 Hair Regrowth
Treatment Product System
HLCC XTC Hair Loss Treatment & Prevention Program
Our exclusive XTC Hair Loss Treatment and Prevention system is an easy-to-use, clinically-tested hair loss prevention and treatment program.
It is clinically tested and designed to help control excessive hair loss, improve the quality and condition of your scalp, minimize hair loss, enhance the appearance of thin-looking hair, and stimulate hair growth.
In carefully controlled clinical studies, when used as a complete program, XTC was shown to increase the percentage of Anagen (growing) hairs in 80% of test patients. 100% of the test group had substantial increases in hair shaft diameter and had larger, more deeply rooted hair follicles.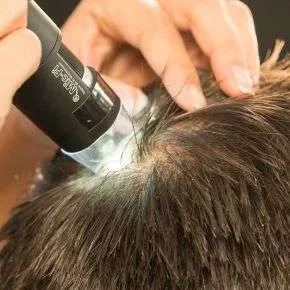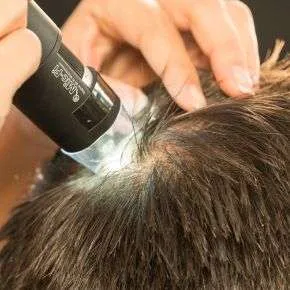 PROMOTE HEALTHY HAIR GROWTH
Hair Loss Rejuvenation Products
The XTC™ Hair Rejuvenation system was developed by the industry's leading hair experts as a convenient and simple multi-phase hair loss treatment system to slow down the progression of aging hair and help to eliminate the causes of thinning hair and give way to healthy hair growth. Hair that has been damaged by overuse of harsh chemicals, excessive heat, weaves, extensions, and braids can be rejuvenated.
Benefits of Hair Rejuvenation Treatments
Have you ever really looked at your hair? Have you been happy with it? Maybe there is something with your hair that bothers you. Consider the following questions. If you answer yes to any of them you could benefit from a hair and scalp consultation to help you determine the best course of action for your hair.
Is your hair too thin?
Is hair missing from some areas?
Is the area over your forehead bald?
Does your family have a history of inherited hair loss?
Have you been pregnant during the last 18 months?
Are you currently on a reduced diet?
Have you had any thyroid-related problems lately?
Hair Loss Prevention Solutions
At Tosi's in Exeter, Pennsylvania, we offer our clients the complete XTC Hair rejuvenation system of hair and scalp treatment for men and women looking for hair loss prevention and rejuvenation. The XTC program works even better when combined with our FDA-cleared low-level laser hair therapy.
Hair loss treatment and prevention don't come in a one-size fits all. After we carefully do a hair and scalp analysis, we are then able to custom tailor a hair loss treatment program for your specific hair loss type that also meets your needs and expectations.
GET STARTED WITH A
FREE CONSULTATION
Whether you are suffering from thinning hair and want to stop your hair loss, or want more hair, we provide the most effective and advanced hair restoration and hair loss treatment solutions for men and women of every age.
Trust. Care. Confidence.
All of our services are provided with your complete privacy in mind. We provide a private, respectful atmosphere which our clients appreciate. Regardless of the cause of your hair loss, Tosi's is here to help.
Get Answers Today
RESTORE YOUR HAIR. RESTORE YOUR LIFE. Schedule a free, private consultation today.